Twas brilling.
That's what I think of whenever I think of new: beginnings, burstings, brillings.
And we are at one. A precipice, a change, a moment. Yes, I'm politically biased in this: "my guy won." And yet, not really. I wasn't sure up to the moments before the primary and though I saw a lot to like in Obama, something pulled me back again and again to Hillary; I was late to the Obama party. What I see now is about something more, true, real hope. And pride. And it is something I haven't seen for so so long.
What do others think? Well, wow, they're telling us: from the rooftops, or the modern-day equivalent anyway – twitter, facebook, email, IM.
CNN had something they called "the moment": I envisioned a collection of moments – what singular moment defined this experience for you – good/ bad/ funny/ poignant? That's not what CNN meant – theirs turned out to be some weird microsofty photo thingie. cool, but … eh? I liked my idea better, so here it is… here's what a few people said was their moment, their "elevator story" as journalists like to say, some of them I know, some I don't, but I want to hear them all. (Yes, even if you don't agree in what I feel was the true spirit of the day.) What are yours?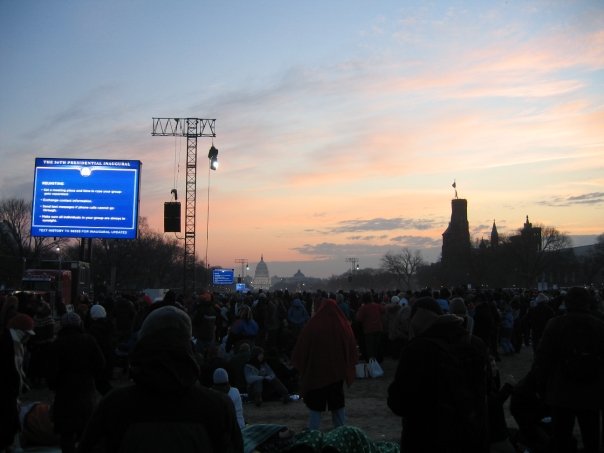 "By the dawn's early light": Photo by KW
A friend of a friend, one of several lovely people I've "met" emailing about Obama since before the election says: I still cannot believe that my we have THIS. I am amazed
Volunteering Friend: It was freezing, it was disorganized. And it was wonderful.
Dear Obamaniac Writer Friend: Ok. I scored a ticket at the last minute (the night before) and set out alone to to make it to the "Orange Section," just to the right of the Capitol, and ran into crowds so huge I really thought I wouldn't make it. Read the rest of this entry »