In one of the cutest durn things I've seen in a while, Marcy of The Glamorous Life Association orchestrated/facilitated/ PULLED off a bloggy proposal of historic proportions. Proposal 2.0…..is it you?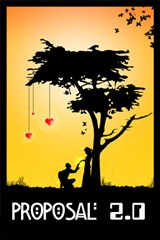 And, even better the victim/recipient/talented blogess/intended SAID YES.
Along the way, Marcy asked (all part of the ruse) for her readers' best bloggy tales on weddings/engagements etc., which brings us, back to me. I found about all this modern weddingmaking through the back door (ooh does that make me a wedding crasher?) — through real-life/bloggy friend Meg's retelling of her own engagement story, I found gems I never knew before. It occurred to me that although I write lots about my love, I hadn't fully shared our story. And oh, how you all must have suffered! Well, good news, the wait is over!
Our story
My Love (let's call him ML from now on, just to simplify) and I actually met years before we began dating, both invited to the same annual birthday gatherings of the same good friend. Over chianti and white pizza at one end of a long tablecloth at DC's historic AV Ristorante (sniff sniff, tragically no more), we bonded and laughed. He, understandably, was drawn to my snarkery about boys I liked and did not. I truthfully don't remember what we talked about, but I remembered him, his laugh, his smile, and the fact that I went home smiling, not remembering anyone or anything else that night.

But alas, he was married then and I was newly single and newly moved to dupont, embarking on a new freelance career. We exchanged cards at the end of night with mumbled promises of "having to all get together." I guess we both knew that would not occur. But I kept the card, finding it in my datebook years later.

Flash-forward three or four years and we're at the same mutual friend's annual Chanukah party. Maybe, probably, we'd been there together before. Maybe we'd been on dogwalking duty for the same couple on different ends of the same weekend. Maybe we'd been at other AV birthday dinners, this time at opposite ends of the table. We can't be sure and in hindsight, it's probably for the best. Neither of us were ready then.

But on this December 2006 night, we were. I went unsure… I liked my friends, but so many couples, so many babies and myself, the single girl. My sister was pregnant, a good friend who lived a block away newly engaged. At another holiday party just a week before, I told my friend "yah, I think I'm going to be 'that girl'" the one who is single forever and that's… okay, just a little hard sometimes." I tried to gloss over, moving on to the next subject and my friend stopped me. "You're going to meet someone," she said, rock-solid in her conviction. "I know you will. You deserve to."

ML went to the Chanukah party a bit unsure too. But he went looking for me! Imagine that! He spied my name on the evite and wondered if that girl, the writer he met years earlier were one and the same. He thought we were. He wondered if I was still single; he was now. He wondered if I'd remember him, if he'd be brave enough to talk to me; he was.

At the party, I was saying my hellos and spied a cute boy I didn't know – whhhaaaa? – I introduced myself. ML said "Actually I think we met, you're the writer, right?"

WELL!!! Anyone who knows any writers or wanna-be-writers or once-and-future writers knows this was a smoooth move. "Why yes, yes, I am…" and we started talking. And didn't stop, through latkes, sangria, onto the porch, back inside…

me: yawwwnnn,welp, think it's time to go…
him: I'll walk you home.

I saw a few friends smiling as we put on coats. Apparently friends who had invited him to a New Years' party whispered that he should invite me, too. But I didn't notice. I floated home (all one block), gave him my number and giggled, skipping up the stairs to my apartment. He said he would call "after the holidays." He called Dec. 26. We went out Dec. 27 and new year's and new year's day and the rest, as they say, is history.

Was it always so perfect, every minute? Of course not. But what it was was easy and clearly right and better every day (still). Within a week or two we were both (ahem, ML, yes, you too) talking marriage. and than we'd laugh that that was crazy. But we meant it, I knew.

He was more recently divorced than me. I didn't talk weddings, was feeling no biological clock or other drivers (despite friends suggestions that surely I MUST be), just love. I just felt love. He was cautious, at one point fearing he was making me wait. I said nope, I'm good where we are. And, much to my delight, I realized I meant it.

Last March, gosh, just about a year ago, I wrote this. I was a little nervous to have him read it. Would he "get it"? Would he be offended… that I was mentioning him at all, let alone worrying about him? He told me, publicly and privately, no. He loved it.

A short time later, we bought last minute tickets to the Cure at George Mason. I hadn't eaten dinner (dumb), had a stressful work day, drank a bit too much before we climbed up to our tippy top seats where I promptly almost passed out. Some food, the bathroom, and ice water later, I was fine again, though (even more than normal)emotional. It was then that he said something I wish I could recall verbatim but something like "So I think we should talk about being together… forever."
Me: What??

And so he repeated it and repeated and repeated till I really heard him and the words flowed to fingers and toes and awoke every capillary. And whether from the power of what he was saying, the seeming randomness of that moment, or my earlier dizziness, I cried. "It's a good cry," I told him. And he said he knew. He did.

We were engaged in August and are joyously planning an October wedding now. I'm still trying to be sure I hear those words.

Fortunately, he's there and happy to remind me, when I forget how they sound.