Twas brilling.
That's what I think of whenever I think of new: beginnings, burstings, brillings.
And we are at one. A precipice, a change, a moment. Yes, I'm politically biased in this: "my guy won." And yet, not really. I wasn't sure up to the moments before the primary and though I saw a lot to like in Obama, something pulled me back again and again to Hillary; I was late to the Obama party. What I see now is about something more, true, real hope. And pride. And it is something I haven't seen for so so long.
What do others think? Well, wow, they're telling us: from the rooftops, or the modern-day equivalent anyway – twitter, facebook, email, IM.
CNN had something they called "the moment": I envisioned a collection of moments – what singular moment defined this experience for you – good/ bad/ funny/ poignant? That's not what CNN meant – theirs turned out to be some weird microsofty photo thingie. cool, but … eh? I liked my idea better, so here it is… here's what a few people said was their moment, their "elevator story" as journalists like to say, some of them I know, some I don't, but I want to hear them all. (Yes, even if you don't agree in what I feel was the true spirit of the day.) What are yours?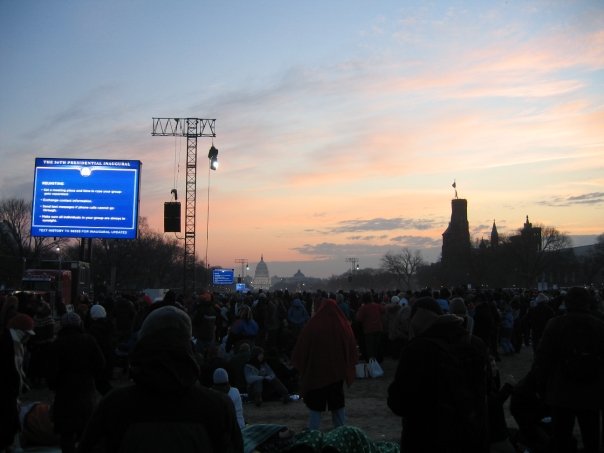 "By the dawn's early light": Photo by KW
A friend of a friend, one of several lovely people I've "met" emailing about Obama since before the election says: I still cannot believe that my we have THIS. I am amazed
Volunteering Friend: It was freezing, it was disorganized. And it was wonderful.
Dear Obamaniac Writer Friend: Ok. I scored a ticket at the last minute (the night before) and set out alone to to make it to the "Orange Section," just to the right of the Capitol, and ran into crowds so huge I really thought I wouldn't make it. But then I oh-so-randomly ran into an amazing group of five people from a tax-lobbying office, of all things, and we walked what felt like miles together and got very bonded, took pictures of each other, looked out for each other, shared granola bars and heat packs and hugs and tears and "Obama!"s! A true Obama experience. Ahhhh….
Long-lost high school pal: I think, that for me, there were two moments that made me pause & smile. First was when I tuned in, and saw the incredible diversity of the crowd. Black, white, brown, yellow, and of course rainbow..everyone was represented. The other was the invocation. I'm not usually all churchy, but I found the prayer thoughtful and inclusive.
One of the few brave enough to do the whole venture down at 4 a.m., claim a spot, wait all day thing: Being on the parade route, and only guessing what the Mall looked like, I was moved by being able to hear the 100,000s of cheers coming from several blocks away from me! Very loud, very exciting.
High school pal across the country: The inagural moment for me began when Senator Dianne Feinstein took the podium for the opening remarks (I was listening on NPR on my way to the office) I started crying tears of joy. I am so thrilled to be here to bear witness to this day and to have taken part in electing President Obama.
Writing group friend (met thru a class years ago): basically, i ran over to the inauguration from my arlington office. i left at 11:30, took the metro to foggy bottom, and then literally ran down 23rd street. it was cold so that made me warm. i was listening to the rick warren prayer on the radio — then i began to hear the sound itself coming from the mall. i realized as i ran: this is the best part, just that feeling of running, of the sun shining, of so many people walking in the same direction, and knowing i was actually going to make it in time.
My college "paper" pal: I think one has to be from this morning, hearing the roaring cheers from the crowds when they got their first glimpse of Barack & Michelle. Their excitement was palpable. And seeing the seas of faces and little American flags being waved feverishly. And just the "accessibility" of our new First Family–they seem so wonderful and also … so normal…guess that's why I feel comfortable calling them "Barack & Michelle"! I also love that Michelle brought a gift to Laura Bush at the White House. Class act.
Yet another high school pal (one more was artistic director of the LGBA band! So proud):i had to work today 🙁 but i had c-span on in the next room… loved aretha's hat! I thought it was poignant Obama addressed the world as a friend to all nations instead of making it a "U-S-A, U-S-A" rally. I liked the part about people judge you by what you build not by what you destroy, loved the excitement and electricity of the crowd (i could feel it here 800 miles away) and seeing the pride in the faces of the young people in the marching bands. seemed like Obama was checking out those Howard girls, then Michelle grabbed his hand!
College/Grad school friends in with their kids (talking about the Obamas' marriage): I like that it isn't just happy, it's real. They seem like a real family."
Little Boy I met on the walk home to VA across the bridge: It's a special time. like we're doing special things like taking a special trip to starbucks.
Twitterer quoting his 10-year old: My 10-year-old just said: "Dad, most of my life Bush has been President. I'm starting to get more interested in politics, I think."
Al Roker: Wow! He talked to ME! He said 'it's warm!" The PRESIDENT! that is SO cool."
Beyonce (at the Welcome concert): Wow. (mouthing teary-eyed after her solo.)
As for me, seeing people hopeful again. really hopeful. that seems like something.
Something indeed, says one of the high school pals cited above. Something indeed.
Too Pollyanna-ish? Want to tell me about the fight at AU, the person that fell on the Metro tracks the ticketholders that were never seated, the flaws in our golden idol Obamarama? Sure, we'll do those. Maybe tomorrow.
But for now, let's enjoy a shining moment (wow, how very special blossom of me) called: hope! Let's unclench our fist to take a hand. Let's roll up our sleeves. Let's be remembered for what we build, not what we destroy. "The teacher said: begin."